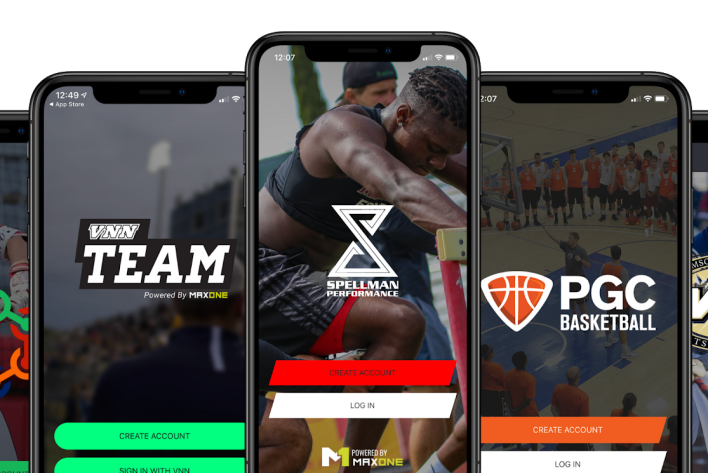 Aged to New Age: How Custom Technology is Shaping the Future of Archaic Sports Orgs
The youth and amateur sports industry is multifaceted, to say the least. With hundreds of organizations serving coaches, athletes and parents; technology is playing an ever-growing role and encouraging these organizations to consider building apps.
Each of these more traditional organizations are feeling added pressure to extend into the digital space to build brand loyalty, deliver their premium content, provide their training services, or to build better communication tools for their community.
Technology in the sports space will continue to trend upward. More than 58% of smartphone users have downloaded a health or fitness related app. Additionally, on average 13-20 year-old athletes spend 6 hours a day on their smartphones. Traditional media channels that coaches relied on in the past do not reach this demographic adequately.
MaxOne is a technology partner that helps organizations that serve youth and amateur athletes to increase their brand's digital presence by building custom mobile applications with a white-label approach. MaxOne offers a full a la carte menu to organizations filled with features to create an app that best serves their needs.
MaxOne's Full A La Carte Menu:
Strength Training
Skill Development Training
Sport Education
Text/Email/Push Notification
Customized Group Chats
Scheduling
Registration
Gear Store
Custom Integrations with Timing Systems, Existing Registration Systems, Sensor Technology, Etc.
"Many organizations dream about owning real estate on the homescreen of all the people in their community, but most don't think it is possible to have their own app," says MaxOne CEO Jason Mejeur. "It's fun to show these organizations the enormous platform we've built and allow them to pick and choose the features they would want for their community."
Leading organizations in the youth and amateur sports category are quickly seeing the benefits of partnering up with MaxOne.
Spellman Performance provides athletes of all levels with access to speed training regiments and tips through their app. In the past, athletes would have to search for a coach to teach them in person, which can be frustrating and time-consuming. With the Spellman Performance app created with MaxOne, the athletes will have access to the same coaching as many professional athletes.
"The biggest benefit of partnering with MaxOne is the ability to get more athletes trained under our system without physically being there," says Spellman Performance Founder Les Spellman. "The simplicity of the app allows for athletes to follow a program with an extreme level of detail."
In a similar vein, PGC Basketball is the largest educational basketball program in the world for dedicated players and coaches. Nearly 100,000 players and over 10,000 coaches have been through a PGC course or clinic over the past 25 years. By building their mobile app in conjunction with MaxOne, PGC Basketball are able to build loyalty and stay top of mind 365 days a year as well as upsell athletes and parents into additional offerings once they leave the in-person experience.
"This year, our MaxOne app was centered around communication and allowed us to provide timely information and encouragement," says Tyler Coston, Director of Player Development at PGC Basketball. "We are excited about the potential to create ongoing connection and coaching opportunities, delivered through technology, that draws on our expertise in basketball education…MaxOne also do a great job seeking to understand the specific needs of our business."
Sports media companies tailored to the youth and amateur audience have also found value in building their app through MaxOne.
VNN is America's largest and fastest-growing high school sports communication platform. As the exclusive partner of over 10% of all US high school athletic communities, VNN connects the high school sports experience onto a single platform for athletes and fans as well as software providers and athletic professionals.
The VNN app leverages the power of MaxOne's software, connecting it to VNN's partner database of high school schedules, scores, and content. The app also gives coaches the ability to coordinate their programs easily setting workout plans, day-to-day communication, or setting reminders to ensure no one misses practice.
"MaxOne knows coaches and has been serving this demographic with strong software solutions for the last 5 years," says VNN CEO Rick Ehrman. "As a company that is focused on high schools and streamlining their athletic department communication, the majority of the time we speak with the athletic director with parents as the ultimate end-user. The VNN Team App is our company's first major initiative that speaks directly to coaches and their athletes first, and our relationship with MaxOne has been instrumental in our understanding their needs."
As dependence on technology grows, teams and organizations at all levels will continue to search for new ways to streamline communication with customers, grow their communities, and ease their day-to-day digital pains. MaxOne has a proven track record of helping their clients win in all three of these areas.
For more information, click here.