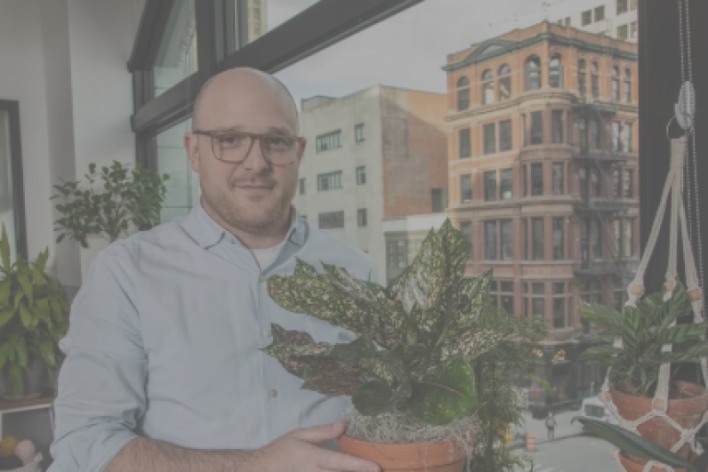 AOL, Warby Parker, Allbirds founders make $7.5 million investment in Detroit-based Bloomscape
Bloomscape Inc., a Detroit-based online potted-plant company, aims to grow with a $7.5 million Series A funding round led by AOL co-founder Steve Case's Revolution Ventures and joined by founders of such e-commerce revolutionaries as Warby Parker and Allbirds.
Justin Mast, who comes from a five-generation line of horticulturalists, founded Bloomscape last year. The year-and-a-half-old startup, which operates out of downtown Detroit co-working space WeWork at Merchant's Row, sells plants on its website and has them delivered from greenhouses to consumers' doors.
Bloomscape says Mast created a "first-of-its-kind packaging technology" to ship potted plants long-distance without their health suffering. It also offers tips on plant care, with Mast's wealth of knowledge coming from time spent growing up around his greenhouse — his parents' business shipped plants to other greenhouses.
"Growing millennial interest in plants has created significant pent up demand for a reliable online retailer," Mast said in a news release announcing the funding round. "Bloomscape is meeting that need by offering more than 90 kinds of plants and shipping them to consumers' front doors from our greenhouses near Grand Rapids, Michigan."
The company shipped more than 100,000 plants in just more than a year and has generated "millions" in sales, it said in the release.
The plant enterprise started with one employee in a small WeWork office and as of January, it was up to 11.
Bloomscape's greenhouses are near Grand Rapids, where Mast grew up. He previously told Crain's he wanted his business to be in "downtown Detroit with all the energy that is there. We also felt that being here would give us access to resources outside of the city."
Alongside Revolution, a Washington, D.C.-based technology-focused investment firm, funders in the round include New York-based Endeavor Global Inc. and a host of weighty startup founders: Eventbrite co-founder Kevin Hartz; Joey Zwillinger, co-founder of online shoe seller Allbirds; Away Luggage co-founder Jen Rubio; Quora co-founder Charlie Cheever; Warby Parker co-founders Neil Blumenthal and Dave Gilboa; and Jeff Raider, co-founder of shaving startup Harry's, according to the release.
"With high-impact entrepreneurs like Justin building truly innovative companies, we see enormous potential for Detroit's growing ecosystem and beyond," Endeavor co-founder and CEO Linda Rottenberg said in the release.
Case, likely known best for America Online, which he co-founded in 1985, started Revolution in 2005. He is chairman and CEO, working with and investing in founders to build long-lasting enterprises, according to Revolution's website. Case also launched Revolution's Rise of the Rest, a startup pitch competition that has traveled to Michigan. Revolution is also an investor in Bedrock Manufacturing, the Plano, Texas-based parent company of Shinola/Detroit LLC.
Case is scheduled to speak at the Detroit Homecoming VI event Sept. 19, produced by Crain's Detroit Business.
A local booster helped introduce Bloomscape to Revolution.
The Ann Arbor-based Renaissance Venture Capital Fund creates a yearly list of the 50 "hottest" startups in Michigan raising money and sends it to more than 100 national funds, including Revolution, said Christopher Rizik, Renaissance CEO and fund manager. Revolution "liked what they saw" in Renaissance's description of Bloomscape, Rizik said.
Renaissance's list and other introductions led to around six investments over the last six months, he said. Dollar figures range from hundreds of thousands to tens of millions.
Case's fund is among national organizations looking outside heavily saturated startup hubs to places like Detroit that "don't have as much capital, but have a lot of really good meat on the bones" in terms of talent and product quality, said Emily Heintz, a venture capital expert who launched a startup-ecosystem data company called EntryPoint.
"(Bloomscape) is another example of companies that are choosing to start their organizations in Detroit and are able to attract the capital to grow their companies from both in-state and out-of-state," she said.
Article source: https://www.crainsdetroit.com/entrepreneurship/aol-warby-parker-allbirds-founders-make-75-million-investment-detroit-based