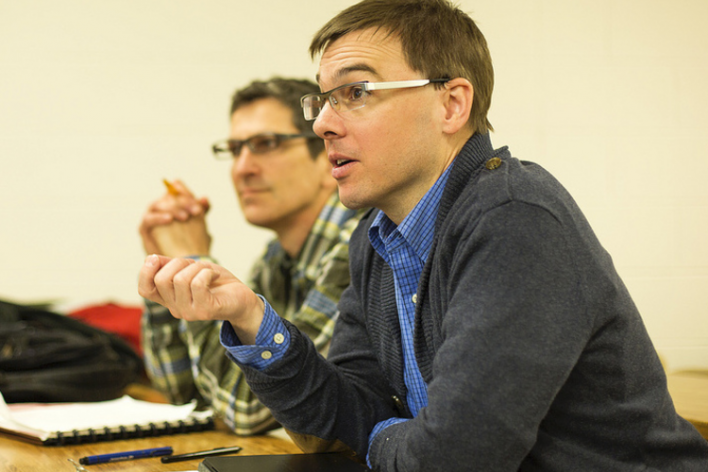 Harnessing Supercritical CO2 to Revolutionize Cutting Fluids, Steve Skerlos Wins Champion for Industry
Welcome to Thomas Insights — every day, we publish the latest news and analysis to keep our readers up to date on what's happening in industry. Sign up here to get the day's top stories delivered straight to your inbox.
Throughout 2019, Thomas will be honoring the achievements of distinguished company leaders and managers in the manufacturing industry. Each month, we will present these respected pillars of industry with the Champion for Industry award. Nominated by their peers, Thomas Champions are leaders who embrace innovation, inspire their colleagues, dedicate themselves to finding trailblazing solutions, and drive business forward.
Dr. Steve Skerlos, founder and CTO of Fusion Coolant Systems and professor of mechanical, civil, and environmental engineering at the University of Michigan, has been named this month's Champion for Industry.
Dr. Steven Skerlos
When Skerlos initially entered the world of machine cutting fluids, it was a dangerous space; known to pick up traces of harmful metals and bacteria that could put machinists at heightened risk for cancers and respiratory conditions, these fluids carry a host of environmental hazards. With a Ph.D. in machining fluids and a drive to find a better solution, he later founded Fusion Coolant Systems, a patented supercritical carbon dioxide MQL and coolant system that has since revolutionized machine cutting.
Making Sustainability Not Just a Passion, But a Priority
Despite initially focusing his technical skills on the world of electrical engineering, Skerlos has become a pioneer in sustainable solutions. He first noticed the demand for environmentally-conscious designs during an undergraduate summer job in Germany when the term "sustainable development" was only a few years old.
"If you look at the Brundtland Commission in the mid-to-late '80s, they coined the term 'sustainable development,' but there was no program to go into [to pursue a related career]. My biggest challenge was to find a pathway," Skerlos explains. "There was no bona fide program in design for the environment that was a true technology program. It was all ecology at that point. I had to carve a path out."
And carve a path out he did. Skerlos went on to pursue his graduate degree in pollution prevention and later started a series of sustainability programs at the University of Michigan, where he is a professor in mechanical, civil, and environmental engineering. This path also led Skerlos into the world of cutting fluids when he joined a metal cutting group.
"I was given an opportunity to get into pollution prevention by joining a metal-cutting group… because nobody in our research group knew how to do pollution prevention. I was tasked with figuring it out," Skerlos said. "And, by the way, I had to figure out metal cutting at the same time."
Revolutionizing Cutting Fluids
After familiarizing himself with the world of metal cutting, Skerlos saw an opportunity for major improvements. After pursuing his Ph.D. in machining fluids, he set off to discover a solution.
"This was a particularly challenging ecosystem because a cutting fluid touches everything. It touches tools. It touches the machines that do the cutting. It touches the gas industry. It replaces the fluid industry," explains Skerlos. "So we had a lot to figure out to make this practical."
According to Skerlos, the primary goal of a machining fluid is to control heat and friction, which involves mixing oil and water, a seemingly impossible task.
"You need to come up with [some degree of] chemistry to get [oil and water] to stabilize within one another," says Skerlos. "It's inherently problematic because oil is inherently unstable in water. So whatever you do to stabilize that system, it's going to destabilize."
Tasked with a seemingly impossible problem, Skerlos began testing various solutions and was initially stumped. But "when I was exposed to supercritical CO2 specifically, I realized right away it would be a great cutting fluid," he says. After the discovery, he dropped everything he was doing to pursue supercritical CO2 as a revolutionary cutting fluid.
Even after the initial realization, Skerlos didn't realize the extent to which his breakthrough would impact the industry; not only was supercritical CO2 outperforming its competition, it was also an environmentally friendly alternative. Fusion Coolant Systems collects CO2 from exhaust smokestacks and recycles it into the cutting fluid.
"I had, along the way, developed testing procedures for cutting fluids that were more rigorous than anything else anybody had done before," explained Skerlos. "Having run thousands - and maybe tens of thousands - of tests of regular cutting fluids and now looking a supercritical CO2, it broke the test.
"It was much better than anything we had seen before," he says.
Turning Innovation into a Business
In addition to launching the successful Fusion Coolant Systems business, Skerlos also previously founded Accuri Cytometers, the primary focus of which was to find an affordable solution to identifying and quantifying bacteria in cutting fluids. Employing 100 people in Ann Arbor, Michigan, the company was awarded the Michigan Deal of the Year when it sold for just north of $200 million.
Skerlos seems to have mastered the art of turning innovation into a business, noting that he owes the success of his serial entrepreneur career to creating technology that has real-world applications.
"A lot of technology is designed by technologists, and technologists are not known for being great with people," explains Skerlos. "I realized I was a really good technologist, but I needed to make technology work for people if I was going to address the planetary and environmental issues that I cared most about."
Skerlos also highlights the importance of what he calls "selective stubbornness" in business ventures. To him, that means recognizing the difference between a good idea and a bad idea and pursuing it accordingly. While some misguided entrepreneurs stubbornly pursue ventures based on bad ideas - but no one tells them they're bad - the entrepreneurs end up in poor business situations.
Alternatively, "[if] nobody's telling you this is a bad idea, but everybody's telling you how hard it's going to be, then you become stubborn about [pursuing] it. You keep marching forward. Eventually, you get there," Skerlos says.
Leading by Helping Others Succeed
As a leader in industrial business and holder of two patents, Skerlos advises giving credit to others where it's due and committing to the success of your team as a whole.
"You have to let other people get the credit because if you want a lot of great things to go on, you can't do it by yourself," explains Skerlos. "I think you have to be willing to be the face of things when that's appropriate but to also see your job as cleaning up when people hit walls by helping them knock the walls down. If something gets dropped, you help pick it up and you move forward. Always be dedicated to the team."
Image Credit: Provided
https://www.thomasnet.com/insights/harnessing-supercritical-co2-to-revolutionize-cutting-fluids-steve-skerlos-wins-champion-for-industry/