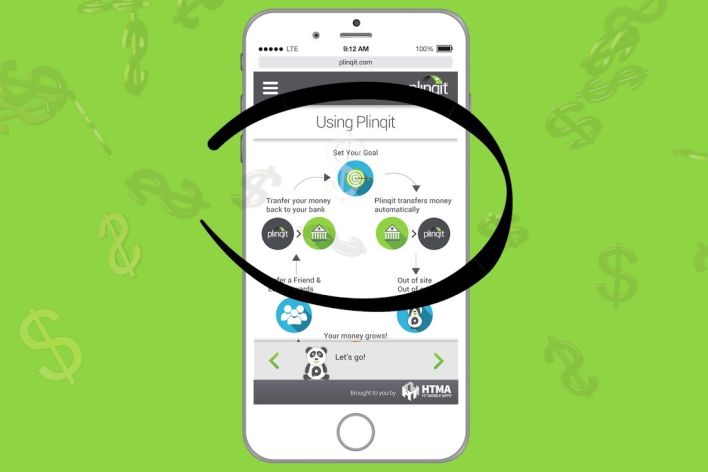 How savings app Plinqit wants to help banks
While third-party savings apps like Digit, Qapital, and Tip Yourself aim to help customers save money automatically, Plinqit is pitching its savings app as a tool that partner banks can use to drive more business.
Plinqit was developed by Ann Arbor-based startup HT Mobile Apps (HTMA), which confirmed on Monday that it added Bank Michigan to its group of partner institutions. Plinqit's partner ecosystem currently includes West Community Credit Union and First Arkansas Bank and Trust. In a statement, Richard C. Northrup, III, president and CEO of Bank Michigan, said Plinqit will help improve customer engagement and acquisition.
Kathleen Craig, CEO of HTMA, told Bank Innovation that Plinqit helps banks grow their deposit bases via customer savings amounts transferred to the app; it's also a means to suggest products to customers based on their spending habits. Plinqit, which launched two years ago, also rewards users with cash back rewards for meeting savings goals, as well as listening to and offering feedback on educational videos from partner banks.
"There are beautiful, elegant, awesome fintech apps; they're great products, but once you've done your saving with them, it's kind of a 'then what'," said Craig. "For us, it's a relationship with your community institution, bank or credit union; they can take care of your other needs and other parts of your life."
Plinqit user interface
To use Plinqit, customers connect their bank account (it doesn't necessarily have to be one of its existing partners) and assign time frames to goals. Plinqit is free, and customers get cashback rewards if they meet their goals (typically 1%), and set a penalty to pay to the bank if they take it out early (customers also can set no penalty if they choose). Plinqit generates revenue through fees banks pay to use the platform and from fee amounts customers designate if they take funds out early.
According to Craig, through Plinqit, banks can offer incentives to customers who view educational content and videos — insights they can use to refine their marketing approaches. "We're in a content overload — we have to find a better way [to connect with customers]," she added. Banks also can use the data from transactional activity to recommend relevant products to them, thereby keeping customers within their own ecosystems.
The app is seeing growth among bank employees. According to HTMA, after the launch of the Bank Michigan integration, 50% of its employee base created Plinqit accounts.
The emergence of Plinqit is part of a larger trend towards "rebundling," or banks' efforts to grow their digital personal finance feature sets to drive customer engagement and retention. Notable examples include RBC's NOMI financial insights tool and Fifth Third Bank's Dobot tool (the result of an acquisition in 2018), which lets customers move their auto-saved dollars into a Fifth Third account.
For banks that otherwise would have difficulty developing these functions on their own, a Plinqit-type partnership helps them add customers and grow deposits. By losing transactional activity to third-party apps and driving traffic away from banks' products banks stand to lose out on an opportunity, wrote Bob Meara, senior analyst at Celent, in a recent blog post about auto-save app Digit.
While Plinqit is a third-party app, its objective is to drive traffic back to participating banks' products. "Banks may not be calculating the opportunity cost that results from conceding key components of customer value to fintechs," wrote Meara.
According to Craig, Plinqit users have saved just under $500,000 in the two years since its initial launch; the average amount saved in a 12-month period is $1,100. HTMA, which declined to disclose how much funding it's raised, is a venture capital-backed startup with funding from FIS, fintech accelerator SixThirty, Invest Detroit, Invest Michigan and Stout Capital.