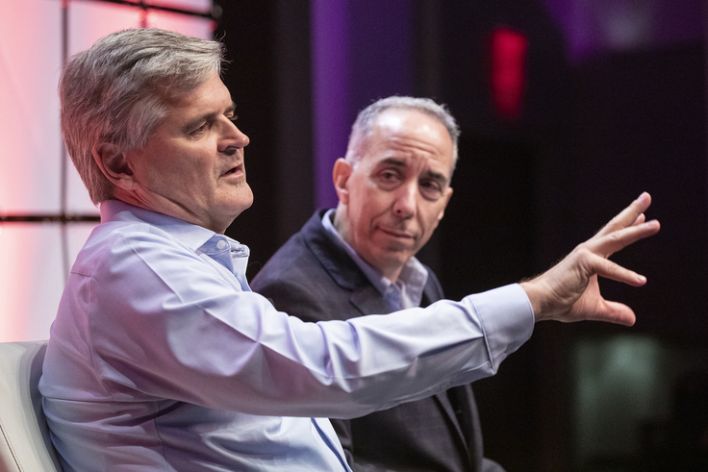 In Detroit, Case announces second $150 million Rise of the Rest fund for startups outside Silicon Valley
A month after he announced a third venture capital fund at Detroit Homecoming 2019, AOL co-founder Steve Case announced another fund focusing on startups not located on the coasts.
Case announced the Rise of the Rest Fund II on Monday at the Forbes Under 30 Summit in Detroit. The $150 million fund, which provides seed funding to early-stage startups, is backed by Amazon's Jeff Bezos, Spanx founder Sara Blakely, the Koch family and about a dozen other business leaders and venture capitalists.
"It's nice that we are announcing this in Detroit, a rising city and the first city we visited on tour five years ago," Case, the lead investor, said at the event, Forbes reported. "We've seen a lot of momentum over those five years, and we are encouraged in terms of what's happening."
Case started the first Rise of the Rest seed fund in 2017 and it's invested in seven Michigan companies, including Detroit-based stock-market of things e-retailer StockX, Ann Arbor-based Sahi Cosmetics, Detroit-based wearable industrial technology Guardhat, Ann Arbor-based augmented reality therapy tool maker Spellbound, Detroit-based mobile virtual network operator Sweet and Detroit-based digital marketing platform Waymark.
Last month, Case announced the $215 million Revolution Ventures III fund in Detroit, which invests larger sums in later-stage startups. Ann Arbor-based Renaissance Venture Capital invested $5 million into the new Revolution fund.
Case's Revolution has invested in nine startups in Michigan, including four in Detroit. Earlier this year, it led a $7.5 million Series A funding round for direct-to-consumer plant shipping company Bloomscape.
Revolution has achieved great results from its first two funds, with five of its 18 invested companies emerging with a exit, the fund said in a news release. Those exits produced larger returns than the average return from similar funds.
https://www.crainsdetroit.com/investing/detroit-case-announces-second-150-million-rise-rest-fund-startups-outside-silicon-valley