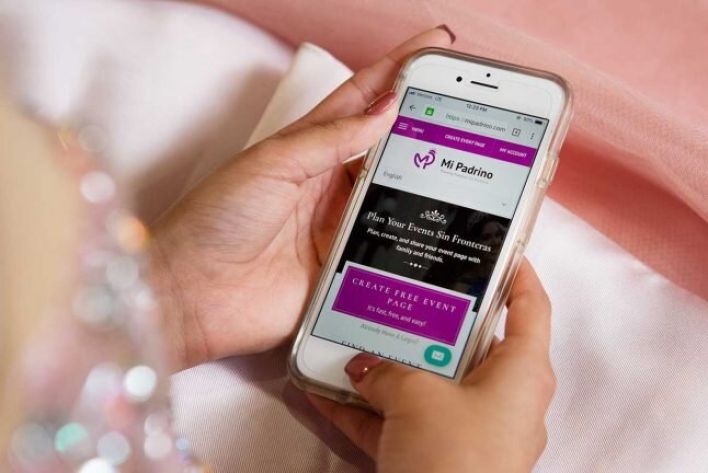 Responding to overwhelming demand, Mi Padrino releases Hispanic party planning app early
Party planners in the Hispanic community will soon have even more reason to celebrate.
Mi Padrino, an Ann Arbor-based company that hosts an event-planning website for Hispanic community celebrations, is launching an app to support quinceañera organizers.
People will be able to use the one-stop app to manage and crowdfund quinceañeras (a celebration of a girl's 15th birthday that marks her transition to womanhood). The app includes planning guides, checklists, and information on dress vendors, venues, mariachi bands, and bakeries. Users can also create personalized, shareable event pages and gift registries.
The app, which will be listed for free in both the Apple App Store and the Google Play Store, is expected to be ready by the end of 2019. According to Mi Padrino founder and CEO Kim Gamez, the release comes a full year earlier than the company had initially planned, due to demand.
"We weren't thinking of even looking at an app until the first or second quarter of next year," Gamez says. "But literally every customer feedback survey that was turned in told us it would be helpful to have an app."
The company started in July 2017 with a goal of drawing 600 users. It ended up with 50,000 users in its first six months. Gamez expected to have 300,000 users by the end of this June, but the company vastly exceeded that goal too, drawing a total of 500,000 users.
"The growing pains and demands have been so hard and fast and loud. So we just decided to give people what they want and need and roll out our app efforts early," Gamez says.
She adds, "whether you are a young girl who will be celebrating, a mom, or even a super dad, our app will ease your stress and make your quinceañera planning easier than you could possibly imagine."
Jaishree Drepaul-Bruder is a freelance writer and editor currently based in Ann Arbor. She can be reached at jaishreeedit@gmail.com.
Photo courtesy of Mi Padrino.
https://www.secondwavemedia.com/concentrate/innovationnews/mipadrinolaunch0521.aspx